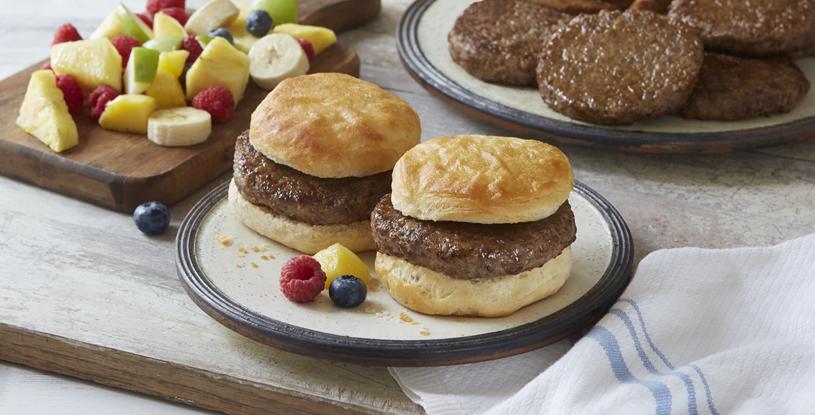 Products Squared
Two Plant-based Proteins, Infinite Possibilities.
Let's take a look at the last ten years of food trends: Keto, Paleo, low-carb, Whole30®, gluten-free, vegan, vegetarian, pumpkin spice, avocado everything, Doritos® Locos Tacos, etc. Long story short, food fads change faster than you can say "Sriracha."
Today, the market is hungry for healthier and more sustainable plant-based meat alternatives. And this trend is taking hold among a broad range of consumers, not just vegans or vegetarians. And with Millennials and Gen Z more in-tune with their health and the health of the planet, this is a trend that will be here for a while. Which is great news for our customers, who seek to innovate with plant-based proteins.
To meet this demand, we're introducing ProTerra™ – an entire line of plant-based proteins to be used as meat substitutes or for meat extenders. The ProTerra family from MGP is made up of our established textured wheat products and our brand new pea-based proteins. Both are Non-GMO Project Verified* and the pea proteins also are gluten free, providing customers even more options for consumer-friendly applications. Our pea-based products also possess enhanced texture and mouthfeel over powdered pea proteins to help replicate the meat-eating experience.
At MGP, we've long been known for expertise in textured proteins. Today, our new pea-based products reflect this know-how and the ProTerra launch is just another example of what we live for – creating ingredients that make people and our planet healthier and make your products more desirable.
ProTerra™ Textured Proteins at a glance:
Pea- or wheat-based

Mimic the appearance and texture of meat

Multiple shapes for nearly infinite applications

Neutral flavor profiles

Non-GMO Project Verified

Pea-based protein is gluten-free

Simple label declarations

No cholesterol, hormones or antibiotics

Shelf- stable

Minimum 75% protein (dry basis)

Good hydration capacity and hydration time
To learn even more about ProTerra Textured Proteins, go here. Or drop us a note at sales@mgpingredients.com.
*All of our proteins, excluding caramel-colored ProTerra, are Non-GMO Project Verified