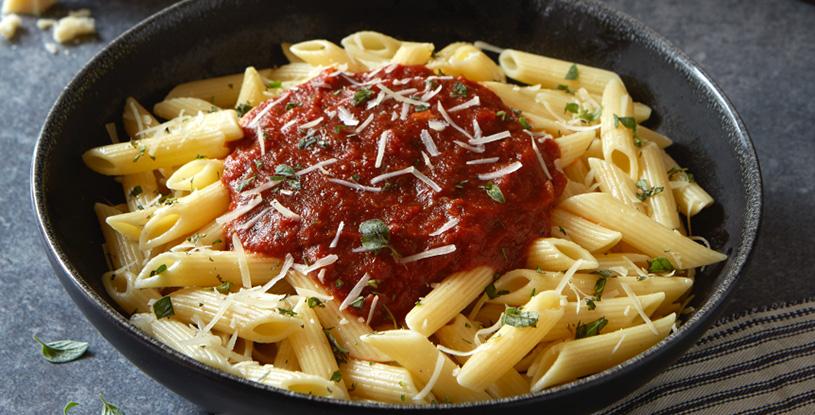 Trending Up
Higher Protein, Lower Carb Pastas Are on the Arise
For centuries, pasta has been a fixture on tables around the world. But annual sales of the popular staple have become stagnant. As consumers become more health and weight conscious, they're cutting back on carbohydrates, pushing pasta makers to find new ways to make their dough.
A study by Mintel indicates that specially developed pastas could be the future, noting that "…advances such as vegetables and proteins in pasta could stem some of those sales declines and give brands the opportunity to leverage a premium positioning and price."1 2018 Nielsen research backs that up, noting that 55% of U.S. households said high protein "is now an important attribute to consider" when buying food for their households.
Higher-protein pasta could be a strong selling point for consumers, especially if it provides the added health benefit of reduced carbohydrates.
This is where Arise® from MGP comes in. It's a line of wheat protein isolates that helps food formulators develop healthy pasta alternatives with higher protein and that oh-so-desired component of lower carbohydrates. Arise contains minimum protein of up to 90% (dry basis) and can easily help achieve a higher protein content in pasta that is strongly desired by consumers.
Combining Arise with MGP's Fibersym® resistant wheat starch in pasta recipes can unlock a list of other benefits like lowering net carbohydrates and calories even further and adding a boost of fiber. And Arise and Fibersym are ideal to use in pasta because they are derived from wheat and easily incorporated in a formulation.
Functional Benefits
When going for added protein in pasta, quantity and quality are the most important factors. Pasta dough has a structure of starch and other components all enveloped by a three-dimensional protein network. The strength of this network impacts the behavior of pasta dough during processing; the rigidity of the pasta before, during and after drying; and ultimately its cooking quality.
Take spaghetti. Besides all the other benefits of Arise mentioned earlier, the higher protein levels in Arise can also help provide firmness to cooked pastas. In a study regarding spaghetti enhanced with Fibersym, Arise 6000 added at a 12% percent level performed better than 12% vital wheat gluten because of Arise's lower cooking loss and higher textural firmness exhibited by the cooked spaghetti. 
As consumers look for healthier pasta alternatives, food formulators will have to meet the demand with higher-protein, lower-carbohydrate pastas that keep their cooking and flavor integrity.
Connect with MGP about all of our premium ingredients that can help. We'll start the conversation with Arise wheat protein isolates and Fibersym resistant wheat starch.
1 Mintel: Pasta and Noodles – US – April 2019