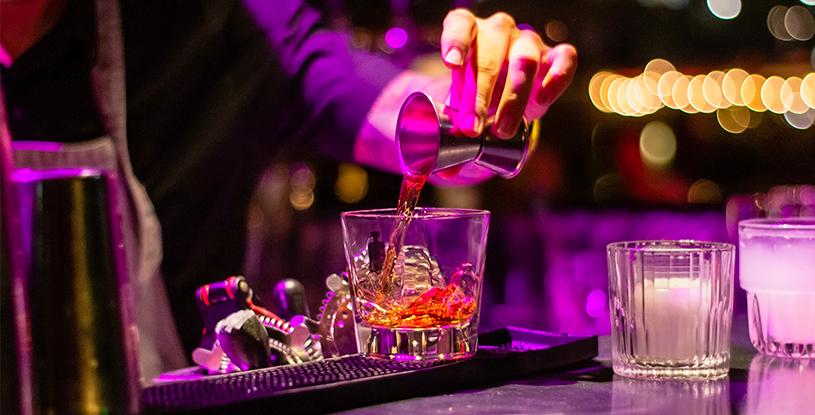 Then & Now
Sharing the Love of Brown Spirits.
What comes to mind when you think of a stereotypical whiskey ad? It probably includes a middle-aged man holding a lowball glass of his favorite pour, with a headline about standing out or being American or having great taste. Those approaches have worked just fine in the past, so it's no wonder that whiskey and other dark spirits are consumed almost twice as much by men than women. And that distinguished gentleman in the whiskey ad…he's about the right age too, as brown spirits are mostly consumed by his  demographic.
Great whiskey and other brown spirits should be enjoyed by all. The long-term growth of the brown spirit market depends on it. But there are some barriers to sharing the whiskey love with the masses.
People shy away from dark spirits for a number of reasons: they don't like the taste, they don't like spirits in general, good whiskey sometimes cost more, they had a bad experience with brown liquor once at a company Christmas party, etc. So how can distillers change people's minds and attract a new, different crowd of dark spirit lovers?
Here are a few suggestions:
Change Your Marketing
Refresh your branding to target under-represented groups like Gen Z, women and Hispanic consumers. Use new spokespeople and target-relevant promotions at events like concerts, festivals, etc.
Also, let people taste the goods by partnering with retailers and food service operators for sampling programs.
Promote Cocktails
Whiskey and other brown spirits taste great in more recipes than just on the rocks. Promoting them in easy-to-make cocktails makes them more palatable to more consumers, not to mention more fun. Try promoting a variety of original, flavorful and healthy cocktail recipes on your packaging, online and via social media.
One third of spirit drinkers keep premium cocktail ingredients on-hand. So, try bundling and cross-promotions with your spirits, combining them with unique mixers, spices and food and appetizer pairings. 
Innovate
Young adults driving the renaissance of cocktail culture continue to seek experiences where they can indulge, yet remain sensible with spirits that are healthier and more accessible. (see the white-hot RTD and hard seltzer trends).
The brown spirit market is predicted to keep growing, and if distillers can tap into new consumer bases, they'll be raising their glasses to a new level of success.