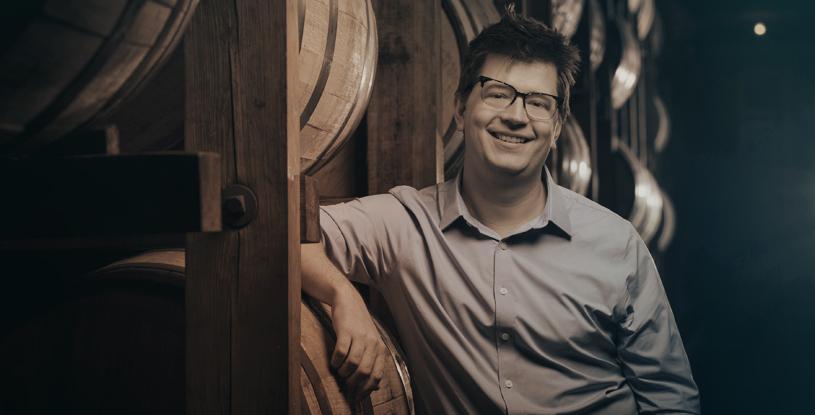 Get to Know Us
Interview with Matthew Greeno, Master Distiller and Distillery Process Engineering Manager
A Kansas native, Matt Greeno earned degrees in chemical engineering and physics, as well as an MBA from the University of Kansas. At MGP, he combines a keen balance of technical wit and artisanal knowhow.
Matt recently earned the distinction of Master Distiller by completing an exhaustive certification process, and he's excited to bring this new level of expertise to his collaborations with the entire team. Perhaps it's his enthusiasm for sports that helps him embrace a team-based approach to the distillation process – or maybe that's just the Midwestern way.
Meet Matt Greeno, whose titles include home brewer and family man.
What's the biggest misconception about your job and MGP?
Much of what goes into fermenting and distilling is technical in nature, but a surprisingly large portion of the job (particularly spirit quality) is artisanal in nature and requires years of experience to get a feel for.
What is something great about MGP that you think no one knows about?
Our distillery crew has the BEST sense of humor! They have me doubled over in laughter at least once a week.
Why do you do what you do?
I don't think there's any other job out there that has such a diverse set of challenges. From highly technical, process operational issues to nuanced quality and flavor puzzles, there's always so much to learn.
What do you listen to when you're spending the day distilling?
That's the Spirit by Bring Me The Horizon
What blog, podcast, website, book do you go to for education on the industry?
For general knowledge, the gold standard is The Alcohol Textbook. And The Drunken Botanist by Amy Stewart is one of the most fun books about all the different grains, herbs, flowers and plants that can be used to make alcohol.
How does the culture/landscape of Atchison/Lawrenceburg impact the products of MGP?
The family-feel and community-oriented business culture truly inspire everyone to be committed to the success of MGP and our customers
What are you passionate about?
I'm a firm believer in organizational transparency and shared success. I strongly feel that everyone, from the corporate office to the shop floor, when aligned with a common purpose will drive the company to unbridled success.
What part of your process do you consider crucial, that others might overlook?
Our people. From our folks inspecting incoming grain to the quality lab technicians to our supply chain and logistics group – we all have a passion for the spirits we make. We're lucky because we get to create something special.
What has been the most rewarding part of your time at MGP?
The company has gone through a total transformation since I started in 2011. The shift to focusing on higher-value distilled spirits and MGP brands has been incredibly fun to be a part of.
What's the biggest difference in distilling today versus when you started?
Probably that now much of the process is team-based instead of reliance on a single Master Distiller. We still value that master craftsman type of artisan, but with a variety of inputs from other disciplines. I think this has helped us improve our core business across the board.