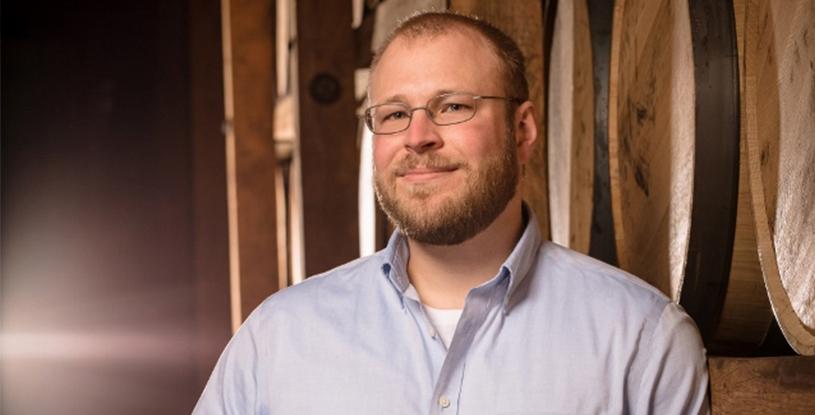 Get to Know Us
Interview with Josh Slawski, Process Engineer Manager and Master Distiller
You can't drag Josh Slawski away from engineering exceptional beverages. Even on his days off as an MGP Process Engineer Manager, he's at home brewing beer, tinkering and experimenting with new brews. That is, if he's not spending time with his wife and 2-year-old son.
Meet Josh.
How would you describe MGP to someone who is unfamiliar with us?
MGP is a family-oriented company that produces large volumes of premium whiskey, gin and grain neutral spirits. While MGP has made a name for itself as a supplier for contract production, we also have brands under our own labels that highlight our production expertise.
What's the biggest misconception about your job and MGP?
Some in the industry may see MGP as a large industrial producer that churns out non-craft products. However, the dedication of our team, combined with the expertise of having a distillery in this location since the 1800s, allow us to make high quality products.
What is something great about MGP that you think no one knows about?
The Lawrenceburg distillery has an impressive amount of flexibility. While many distilleries may produce one, two, or three products at a time, our distillery has the ability to produce two whiskeys, two neutral spirit grades, two gins, and a light whiskey concurrently. The complexity of the process and the ability to consistently produce high-quality spirits speaks volumes about the skill and teamwork between our team members.
Why do you do what you do?
I have always been interested in math and science. When I was in college for chemical engineering, I had the opportunity to work as an intern at a fuel ethanol plant. While there, my passion for mashing, fermentation, and distillation grew. After working in a variety of types of fuel ethanol, I had the opportunity to join the MGP team and work in the beverage ethanol industry. Whether it is producing new spirits or maintaining the high-quality standards on existing spirits, every day has exciting challenges and opportunities to learn.
What part of your job do you consider crucial that others might overlook?
Data collection and analysis are critical. Since spirits production is done through mechanical, chemical, and biological processes, it is important to have the right data and to interpret it correctly in order to stabilize the process and improve quality.
If you were going to spend time distilling, what album would you listen to?
I admittedly have eclectic taste in music. I mainly listen to country or '90s alternative rock when I'm brewing.
What blog, podcast, website or book do you go to for education on the industry?
I have Google alerts set up for several industry keywords, so I normally read a couple dozen applicable news articles each morning. Bourbonveach.com is a great source for interesting articles on bourbon history. With the Lawrenceburg distillery owned by Seagram's for almost 70 years, there are also a wealth of research papers and trial reports from those days.
What do you do exceptionally well?
When I get my mind set on something, I keep grinding away until I achieve my goal.
What are you passionate about?
I am passionate about continuing to learn more about the whiskey industry. The nuances of whiskey production are often touted in tours of distilleries, but digging into the details of production shows there is far more to learn.
Who has had the most impactful influence on your career?
My father has had the most impactful influence on my career. During both his time serving in the Air Force as well as working in private industry, he consistently provided a role model of someone who always gave full effort, regardless of the long hours.
What has been the most rewarding part of your time at MGP?
I enjoy working with customers to develop new products. Turning a customer's order from an idea about a flavor profile into a distillate in a barrel is very satisfying.
What's the biggest difference in distilling today versus when you started?
We continue to increase documentation and data analysis. Whiskey production at the site has a rich history filled with numerous industry leaders. Today, we are working to continue that legacy by utilizing the increased amount of data collection and analysis tools available.