Sarah Gutkowski
Baking Application Scientist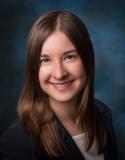 Sarah Gutkowski joined MGP as Baking Applications Scientist in 2015. Her primary responsibilities involve developing formulations with MGP's specialty proteins and starches for existing and future customer applications, as well as conducting lab experiments on new ingredients. This position also includes producing lab samples and providing product demonstrations in customers' food plants.
A combined interest in chemistry and food formulations inspired Sarah to pursue a career in food science. She noted that her "passion for helping create healthful, great-tasting foods that are also high in functionality" is what attracted her to MGP. Sarah welcomes challenges and relishes bringing teams together to come up with workable solutions for customers. As such, she enjoys working alongside MGP's sales and marketing team to bring new concepts and applications to the marketplace.
Sarah earned her master of science degree in grain science and carbohydrate polymers at Kansas State University, Manhattan. She also worked there as a Graduate Research Assistant, conducting analytical tests on starch ingredients. Prior to that time, Sarah worked as a science intern for a large food manufacturer in Minnesota. In this role, she formulated ready-to-eat cereals. Her duties also included working with flavor and ingredient companies to increase the nutritional value of cereal products.
Prior to enrolling in graduate studies, Sarah received her bachelor of science degree in food science at the University of Minnesota, Minneapolis, in 2011. While holding a variety of research positions throughout her time as a student, she earned numerous awards through her participation in the Institute of Food Technologists.