Brandon Gall
Vice President of Finance and CFO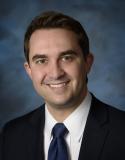 Brandon Gall has served as Vice President of Finance and Chief Financial Officer since April 2019. Since joining the Company in 2012, Gall has advanced through a steady progression of leadership roles, including Director of Financial Planning & Analysis, Director of Supply Chain Finance, Director of Business Development and most recently, Corporate Controller.
Prior to joining MGP, Mr. Gall had worked for Errand Solutions, Chicago, as director of finance and human resources. He also served as a summer associate at GRI, a private equity fund located in Baltimore, Md., in 2010. There he led efforts in identifying, evaluating and executing new investments and monitoring existing portfolio companies' performance.
From 2005 to 2010, Mr. Gall was employed by Credit Suisse Securities in Chicago, where he served in various analyst and associate roles. At Credit Suisse he earned numerous securities licenses including the Series 7, Series 63, and Series 66 licenses.
Mr. Gall holds a bachelor's degree of business administration from Miami University and an MBA from the University of Chicago. He is also a certified CPA.