Sarah Corwin, PhD., RD
Principal Scientist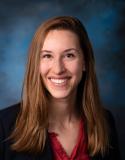 Sarah Corwin, PhD., RD, is Principal Scientist for MGP Ingredients. She brings an extensive research and academic background to the role, including work in cereals and grains, as well as product development experience. Dr. Corwin completed coursework for her PhD. in Food Science at Purdue University. 
As a graduate research assistant at Purdue, she managed the Carbohydrate Chemistry Laboratory, where her study was focused on slow-digesting carbohydrates. She participated in numerous professional development activities provided by food and baking industry organizations, including the American Society of Baking (ASB) product development committee and as a volunteer with the Institute of Food Technologists (IFT) Carbohydrate Division Leadership. She also was an officer of The Cereals and Grains Student Leadership Association.
Dr. Corwin taught courses on food product design and introduction to food processing and presented at national and international symposia on agricultural biological engineering and carbohydrate-related topics. 
Additionally, she was a member of the Purdue Hoosier Chapter of the food science honor society Phi Tau Sigma. Under her leadership as president in 2019-2020, the chapter received Outstanding Chapter of the Year 2020.
 Her professional experience includes consulting dietitian providing clinical medical nutrition therapy for three group homes and clinical nutrition, kitchen supervision and menu development for a 180-bed medical facility. 
Dr. Corwin received a B.S. in Nutrition from Case Western University in 2013. At Case Western, she conducted research into the effects of high-fat vs. low-fat diets in the Genetics Department. Following graduation, she participated in the Dietetic Internship Program, a joint program of Indiana University and Purdue University in Indianapolis from 2014 to 2015.