Ody Maningat, Ph.D.
Chief Science Officer & Vice President of R&D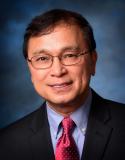 Clodualdo "Ody" Maningat, Ph.D., has achieved global recognition as a leading expert in starch and protein science. As Chief Science Officer and Vice President of R&D at MGP, he performs an essential role in the development of specialty wheat starches and proteins that uniquely add value to consumer packaged foods and beverages.  With his extensive knowledge and expertise, he is regularly called upon by MGP's customers to directly assist in the creation of customized formulations and solutions tailored to their specific needs.
Dr. Maningat has served in his current position since 2013. Previously, he was Corporate Director of Research and Development and Technical Marketing at MGP for several years after serving as Corporate Director of Research and Development and Quality Control from 1992 to 1997. He joined the MGP as a Research and Development Chemist in 1986. His professional experience prior to that included serving as a Research Chemist in the Cereal Chemistry Department of the International Rice Research Institute in Los Banos, Laguna, Philippines.
Regularly called upon to conduct professional seminars, both domestically and abroad, Dr. Maningat also serves as an adjunct faculty member in the Department of Grain Science and Industry at Kansas State University, Manhattan. In addition, he is a member and former Chairman of the Advisory Board of the Food Processing Center at the University of Nebraska, Lincoln. He has been a lecturer in short courses for the Center for Professional Advancement, the American Institute of Baking International and the American Association of Cereal Chemists International (AACCI). He additionally has been a featured speaker at annual meetings and symposia of these and other professional organizations, including the American Chemical Society (ACS) and the Institute of Food Technologists (IFT), along with the International Starch Technology Conference and International Wheat Quality Conference.
Dr. Maningat is a member of the AACCI and IFT, and has served as Chairman of the Board and Technical Program Chairman for the Starch Round Table. He has authored and co-written several research articles in food science publications and co-invented a variety of product patents. Among various honors and awards he has received are the Majel A. MacMasters Memorial Achievement Award, Outstanding Award in Science, Adamson University Outstanding Alumni Award and Kansas State University Outstanding Alumni Award. He additionally is a Fellow of the AACCI.
Dr. Maningat received his bachelor's degree in chemistry from Adamson University in 1976 and his master's degree in agricultural chemistry at the University of the Philippines in 1981. He was awarded his Ph.D. degree in grain science at Kansas State University, Manhattan, in 1986.