Liming Cai
Principal Scientist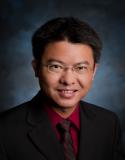 Liming Cai, Ph.D., serves as Principal Scientist at MGP. His principal responsibilities include providing research, applications and technical support to grow and enhance the Company's portfolio of specialty starches and proteins that address increased demand for clean label, healthy and functional products.
He also manages the operations of the Company's R&D Pilot Plant facility and assists in the development of operational process and system improvements related to ingredients production. The position additionally involves working directly with MGP's customer partners to deliver solutions that uniquely add value to their consumer packaged goods. Other responsibilities include participating in the training of company personnel, as well as ingredient brokers and distributors, through presentations, seminars and one-on- one collaborative activities.
An accomplished food and grain science expert, Liming joined MGP in the role of Applications Scientist in 2013. He previously had served as a Post-Doctoral Research Associate in Cereal Chemistry at Washington State University in Pullman, Washington. He began in that position in January 2012 after spending over four years as a Graduate Research Assistant in Carbohydrate Chemistry in the Department of Grain Science and Industry at Kansas State University, Manhattan.
The knowledge, experience and capabilities Liming possesses are valuable assets that he applies to his role every day at MGP, with a solid focus on developing value-added ingredients that address increased demand for nutritious and functional products.
A native of Putian, Fujian, China, Liming received a bachelor's degree from Wuhan (China) Polytechnic University in 2004. He earned a master's degree in food science from South China University of Technology in 2007 and his doctorate in grain science from Kansas State University in 2011.
Post-doctoral research projects in which he has been involved have included the application of novel methods for processing whole grain for improved baking quality; the identification of grain traits influencing the functional and bread-baking properties of whole grain wheat flour; and the development of acceptable sensory properties for whole grain breads and noodles. Industry-related projects have included researching the action of anti-staling enzymes on starch and its implications in baking applications, and investigating the molecular origins of enzyme resistance of high amylose starches.
Liming has authored and co-authored over two dozen scientific research publications and presentations. He additionally has presented research data at various food industry conferences and seminars and provided independent analytical services and technical support for a number of major food product manufacturers.
Liming has served as Assistant Editor of Food Science, Versita Open Access Books (2012-2013), and has been a Guest Editor of the Journal of Chemistry (2016) and a member of the Editorial Board of Food Research International since 2015. He is a member of the American Association of Cereal Chemists International and the Institute of Food Technologists. Among honors Liming has received are the National Starch Outstanding Ph.D. Graduate Student Award (2010) and the Ming-Long/Paul Seib Graduate Achievement Award (2009), both from the Kansas State University Grain Science Department,and the Outstanding Poster Award in Cereal Chemistry (2008) from the Corn Refiners Association.