Pam Soule
Quality Manager, Lawrenceburg, IN Facility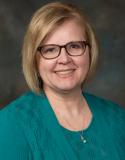 Extensive experience and unwavering dedication to ensuring that MGP's beverage alcohol customers receive the world-class products they expect are among strengths that Pam Soule brings to her role as Quality Manager at the Company's Lawrenceburg, Indiana, Facility. She has been employed at the facility since 1980, starting as an Administrative Assistant in the Quality Department when the plant was operated under the ownership of Joseph E. Seagram & Sons. As her knowledge and skills grew, so did the responsibilities she was assigned, resulting in a series of promotions through the years.
While the facility was still owned by Seagram & Sons, and later Pernod Ricard, Pam became increasingly involved in assisting with both Quality Control and Product Development functions. These included sensory and aged whiskey evaluations, inventory surveys, barrel management, formulation blending processes, flavor profile analyses and evaluations, and shelf life testing.  After the plant was sold to Lawrenceburg Distillers Indiana, LLC (LDI), in 2007, she remained at the facility, but worked for Pernod Ricard's North American Technical Center. Her primary responsibilities at that time were focused on the regulatory aspects of the business, including work related to Tax Tobacco and Formulations Bureau (TTB) formulas for various brands, Certificate of Label Approval (COLA) applications, pre-import approvals for imported bulk goods and the registration of Pernod products in foreign markets, as well as TTB reporting requirements for the Distilled Spirits Plant (DSP). She subsequently joined LDI and, shortly after MGP's purchase of the facility in December 2011, she was promoted to Quality Manager there, and is also a Master Blender at the Company.
In her current capacity, Pam oversees all Quality Control Laboratory functions and staff, making certain that analytical and sensory testing procedures are flawlessly conducted on each and every product. She is also responsible for providing ongoing sensory and other key product specification analyses of whiskey inventories for the Company and MGP's customer partners. In addition, Pam works closely with the Company's Sales and Innovation Teams to assist in the development of customized formulations that precisely match customer needs.
During her highly successful career, Pam has achieved Sensory Accreditation, participated in numerous TTB and flavor and beverage educational seminars, completed Importing/Exporting training and completed Hazard Analysis Critical Control Point (HACCP) Training through AIB International.