Thomas Lynn
VP, General Counsel and Corporate Secretary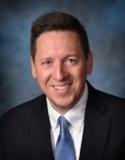 Thomas "TJ" Lynn serves as Vice President, General Counsel and Corporate Secretary at MGP. He joined the Company in the latter two roles in August 2017, and was named a Vice President in February 2018.
As General Counsel TJ has responsibility for commercial matters, litigation oversight, environmental matters, corporate compliance obligations, intellectual property and labor/employment laws, contracts and day-to-day legal matters. Corporate Secretary responsibilities include counseling the Board of Directors and senior management on matters relating to relevant federal and state securities laws, and assuring compliance with applicable corporate governance requirements and best practices.
Specializing in counseling senior management teams and boards of directors of publicly- and privately-held companies, TJ previously spent nine years as a partner in the Kansas City, Missouri-based law firm, Stinson Leonard Street LLP. Prior to his years with Stinson Leonard Street, TJ served as an associate attorney with the Bryan Cave LLP law firm in Kansas City from 2001 to 2008. He began practicing law as an associate attorney with Mayer Brown in Chicago in 1999.
TJ earned his juris doctorate with honors at the University of Chicago Law School, and a bachelor of arts degree from the University of Kansas.